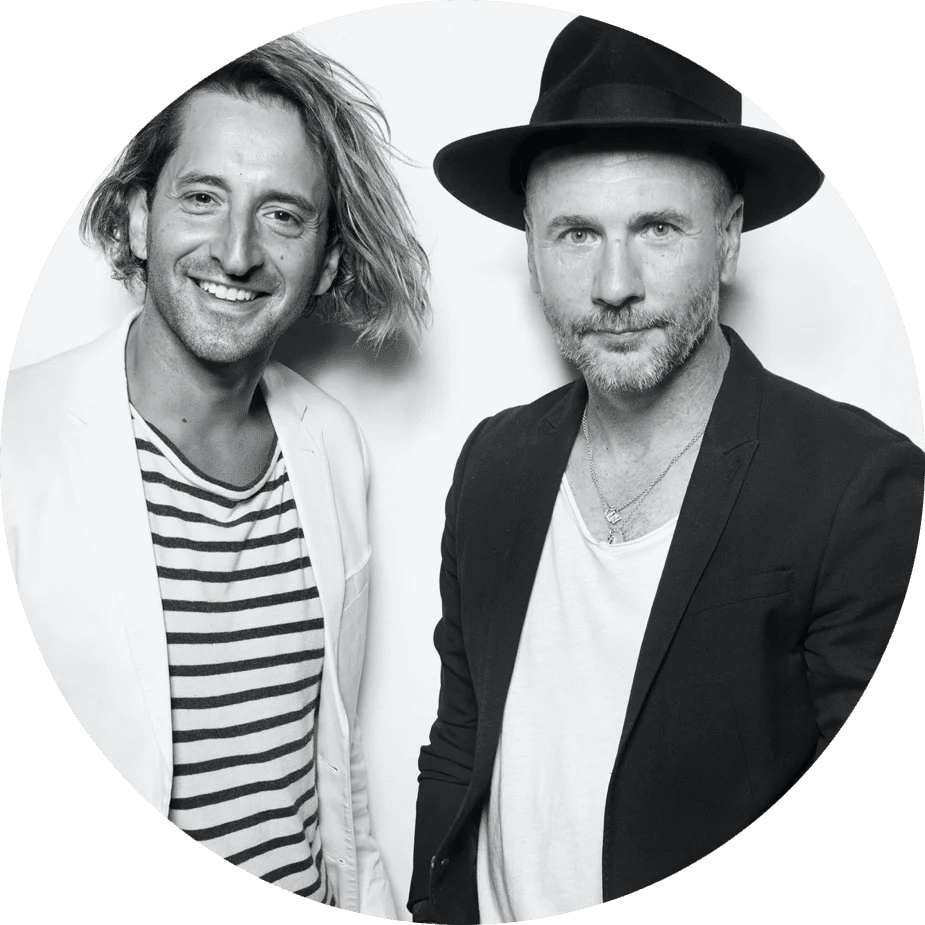 Joey Scandizzo & Andrew O'Toole.
Meet our co-creative directors
We've teamed up with two industry icons as Co-Creative Directors – celebrity hairstylist and four-time Australian Hairdresser of the Year, Joey Scandizzo and Australian Photographer of the Year, Andrew O'Toole.
Through their work on-set, the salon floor, on photoshoots and fashion shows together, the dynamic duo recognised a gap in the market for a fresh, fun and straightforward range with products that simplify your hair and body care routine by doing exactly what they say they will.

Together with a hair and beauty obsessed team they helped to create ELEVEN Australia – a brand that embodies the Australian lifestyle.
"HAIR AND BODY CARE DOESN'T NEED TO BE COMPLICATED, IT JUST NEEDS TO WORK" ELEVEN Australia Co-Creative Director, Joey Scandizzo.
Joey Scandizzo & Andrew O'Toole.
our fresh approach
Brand Story
A lifestyle brand for the young and young at heart with a fresh approach to hair and body care. A multi award-winning range spanning 40 professional products, that do exactly what they say they'll do.
Cruelty-free and PETA approved, ELEVEN Australia products call on high performing natural ingredients for maximum efficiency. 
We use simple and uncomplicated product names, which means you know exactly what you're getting when selecting the right products for you. Want volume? Look no further than our I WANT BODY range. Need hydration? Try our HYDRATE MY HAIR moisture range. Want to tame your frizz? Then check out SMOOTH ME NOW. Been a little hot and heavy on the styling tools or bleach? Then it's all about REPAIR MY HAIR. Want to keep your blonde hair creamy - not brassy? Then our KEEP MY COLOUR BLONDE range will become your new best friend. There's truly something for everyone, and the best bit? We have a selection of vegan and gluten-free products to suit all hair types. 
Since its launch in 2011, the world has fallen in love with ELEVEN Australia. Available globally, you can find our products across Europe and in 27 countries around the world including New Zealand, the USA and Canada!